Plastics Engineering Magazine
11/10/2015
Plastic Shredding/Granulation Options for In-House Reclaim
Dana Darley, National Sales Manager, Vecoplan LLC, Archdale, NC USA
Producers of extruded products have three main options when dealing with their own internal scrap…re-use, resale, or material disposal. For any of these three, some type of size reduction of the scrap is either required or of some benefit. We will begin with an overview of the most popular shredding technology typically used for extruded product. Single shaft/rotor shredding systems will be reviewed in both vertical and horizontal configurations. Features and benefits of each technology will be outlined, as we look at a variety of extruded products, such as film, fiber, sheet, non-woven, profile and pipe, as well as blow molded containers and extruder purgings. We will look at the options for size reduction primarily for reprocessing, including the integration of conveyors, metal detection/separation and granulators. While focusing on the shredding step, we will discuss the best technology for each product and discuss basic configurations for typical size reductions systems. We will also review the very latest in shredding technology, which features systems designed to size reduce extruded product to the optimum size for reprocessing; all in one step and while maintaining product quality and high production rates.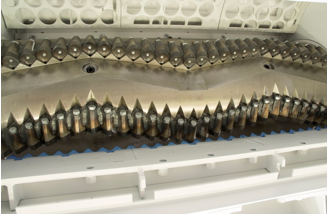 The vertically fed, single shaft shredder is the workhorse of the plastics recycling industry (see figure1, Shredder, with HiTorc magnetic drive). Material is fed either by hand, fork truck, inclined conveyor or a container lift and dump system into the top of the shredder feed hopper. Belt conveyors are often the method of choice, as they allow material to be staged and give the opportunity for metal detection/separation, before entering the system. In most cases, the feed hopper can be filled, without concerns about over-feeding the processing area of the shredder, and a photo eye can be installed to control the infeed conveyor/dumper. Once the shredder is filled with material, the horizontal hydraulic ram takes over the process. Based on the load/torque of the rotor drive, the PLC control system will use the ram to push material into the cutting rotor of the shredder to maintain the highest efficiency during the size reduction process. Material will drop through the sizing screen once the desired particle size is reached, and is then either mechanically or pneumatically transferred from the shredder to further downstream processing equipment.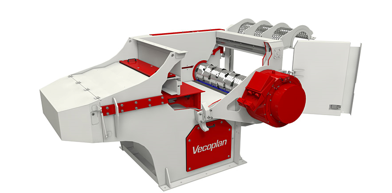 Shredders and granulators are basically opposites of each other in the size reduction world, for this reason make for great partnerships. Shredders work best when completely filled with heavy, bulky materials, and can effectively reduce this material to particle sizes of 1" or smaller. Most granulators need to be continuously fed material, with care taken not to overfeed, which could cause a blockage or stall of the rotor drive. Large, bulky parts could just bounce around and never efficiently feed into the high speed cutting rotor. However, when properly fed, granulators are very effective at size reducing a constant infeed of material to a small, uniform particle, down to ¼" or smaller. The marriage of the two systems often comes when large, bulky or heavy products need to be size reduced to the smallest particles possible, and with a minimum of operator attention. Shredders can be bulk or batch loaded, with any size or amount of material that will physically fit into the feed hopper of the system. The operator can walk away as the shredder continuously processes the material to a comfortable particle size for the granulator, which will further size reduce to the desired level. This is a process often referred to as "Dump and Run." Film, fiber and non-woven fabrics can be some of the more difficult products to process. Whether introduced to the system in a baled, rolled or loose form, the tenacity of these products and the tendency for long pieces to self-feed into the shredder rotor, special consideration is required for the design of the machine. To handle self-feeding products and the tendency to wrap, a second set of nip cutters are used to keep material from winding around the rotor (see figure 2, FF rotor). A further measure may be required to cover the top of the rotor, to limit material feed and put the hydraulic ram in full control of the process. These materials can also generate heat during the size reduction process, so cored rotors can be applied that allow for cooling water to flow down the entire length of the rotor. High power drives can also be used to better process these demanding material, such as a magnetic drive (see figure 1, Shredder, with HiTorc). For re-pelletizing and densification processes, a 2" – 3" inch particle size is often required, which can be achieved by the shredder alone. If a smaller particle size is required, a combination shredder/granulator system can be supplied.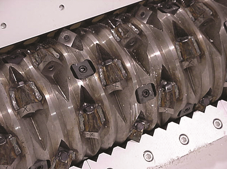 Drums, barrels, IBCs and other bulky parts can also be a challenge for any size reduction process. For the shredder, the product size can often determine the size of the machine, versus the processing rate the customer requires. The shredder must have sufficient size to prevent bulky products from bridging in the feed hopper. Oversized "XL" rotors may be required to more efficiently process these large and often hollow parts. Torque is normally not a limiting factor, as these products process easily, once introduced to the cutting chamber of the system. For further processing, a particle size of 1/4" – 3/8" is often required, so use of a secondary granulator would be required. Pipe and profile ("lineal") products of ten feet or more in length are often processed in a horizontal system, so the parts can be handled without the need for cutting into to smaller pieces, as would be required for a vertically fed system (see figure 3, VTH, Horizontal shredder). A long, vibrating infeed conveyor is used to direct material into an integral pair of nip feed rollers. The nip rollers, much like the ram in a vertically fed system, control the product feed rate into the cutting rotor. Size reduced particles fall through the sizing screen and can either be mechanically or pneumatically discharged from the shredder. For pipe and profile products less than ten feet in length, a vertically fed system can be used and often a tilting table will feed these long parts into the shredder feed hopper, much like drinking straws into a cup.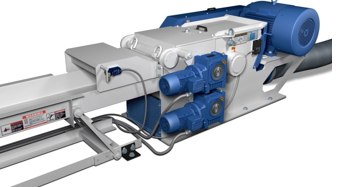 Purgings, pallets, sheet stacks, railroad ties and other heavy scrap are a shredder's best friend, and a granulator's worst enemy. Due to the feed control of the hydraulic ram, it is almost impossible to overload a shredder with these heavy parts. The shredder's closed rotor and "chipping" cutters will efficiently process these parts, in some cases all the way down to 3/8". However, for highest output and processing efficiency, the addition of a granulator in combination with the shredder, is often a good idea. The shredder quickly and easily reduces these large, heavy products to 2" – 3" particle sizes for optimum granulator feed. The granulator can then efficiently process these particles to the final desired size. For these processes, a stacked configuration is a common solution for saving money and floor space as opposed to an in-line system, with mechanical conveyors between the shredder and granulator (see figure 4, Stacked system). Stacking the shredder directly on top of the granulator does, however, greatly reduce the opportunity to detect and/or remove tramp metal. A magnetic plate can be installed between the shredder and granulator to remove FE (ferrous) metal, but when large amounts of FE and non-FE metal are likely, the two should be installed inline, with the proper metal detection and separation systems installed into the mechanical conveyors. For heavy and/or difficult to cut products, additional cutting torque or power may be required. Extra heavy duty, reinforced shredder frames can also be a good idea for these applications. Additionally, a "P" or passive rotor design is sometimes used to reduce the cutter bite, and "Pipe" packages including frame, cutting bed and ram reinforcement are incorporated for improved machine durability.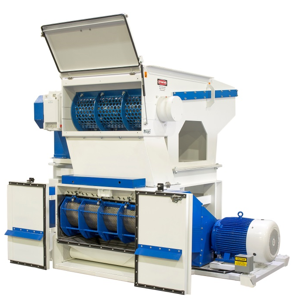 Combination shredding and granulation systems are very popular in plastics applications due to their extreme efficiency and versatility. However, having the ability to effectively size reduce in one step through a single machine, obviously has big advantages. Shredders are being developed now with the power, features, and most importantly, cutting rotor design to allow processors to go directly from large, bulky products to the final particle size and consistency for further processing. The "W" rotor shown (see figure 5, "W" rotor) is a hybrid of the traditional course "chipping" action of the shredder combined with the fine cutting action of the granulator. With 5 rows of cutters and dual bed knives, the "W" rotor has almost five times the cuts per revolution as compared to a traditional shredder rotor. This is the key to being able to size reduce in one step without sacrificing output and cut quality. The recently introduced V-ECO, with "W" rotor is a major advancement towards this ultimate goal.
« Back