Industrial Shredders | Industrial Shredding Equipment
Industrial Shredding Technologies For Every Application
Improving Recycling & Shredding Capabilities for Plastics, Paper, Wood, & Waste Industries for Over 50 Years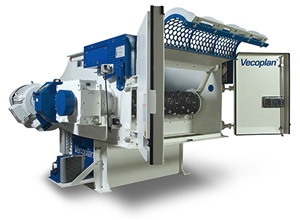 Vecoplan industrial shredders are the leading size reduction machines for waste shredding and pre-shredding in waste-to-energy (WTE) facilities, paper recycling, recycling plastic scrap and film, wood scrap recycling, document and data destruction.
Vecoplan designs and manufactures an array of industrial shredders, recycling shredders, and re-shredders in both single shaft, dual shaft and multiple shaft configurations, as well as comprehensive size reduction systems with auxiliary equipment including conveyors, granulators and storage.
Which type of industrial shredder is right for your application?
Single Shaft Shredders
A Vecoplan single-shaft shredder is the most versatile and widely used industrial shredder with the ability to operate without an additional feeding system in most applications. Vecoplan's patented rotor optimizes the throughput in its single-shaft shredders, which means a higher throughput than other manufacturers'. A Vecoplan single shaft shredder is versatile and can be used for size reduction in various industries:
Vecoplan single-shaft industrial shredders include the models VAZ, VHZ, V-ECO, VIZ, and VEZ. Single shaft shredders are a good fit for multiple industries, particularly with Vecoplan's cutting systems, patented rotor technology, and available machine options.
Dual-Shaft Shredders
Dual shaft industrial shredders have opposite rotating rotors that pull the material between the two. In a dual-shaft shredder, the cutters or knives cut the material when it passes over the cutter and the opposing counter-knife. A dual shaft shredder creates homogenous material output.
Vecoplan dual shaft industrial shredders include the models VPC, VRZ, VVZ and the VNZ. Dual shaft shredders are best for material that is tensile and therefore is best for the following applications:
Drum-Chippers & Grinders
Vecoplan chippers and grinders have horizontal drums with cutters or knives to size reduce horizontal pieces. The machines have adjustable infeed openings to process varying scrap thickness. Chippers produce smaller, more uniform chips typically used for biomass fuel. Grinders act like hammer mills in that they pulverize material into rough cuts.
Vecoplan drum chipper and grinder products are the VTH, HR, RHR and SR. They are used in horizontal applications such as:
Panel end cuts
Pipe, profiles and tubing
Decking material
Types of Industrial Shredders