Printers Waste
Vecoplan Shredders for Printers' Waste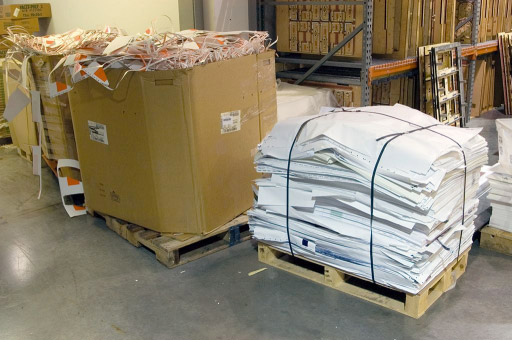 The printing and converting industries look to Vecoplan for shredding and paper waste management solutions. Vecoplan industrial paper shredders process slabs, rolls, signatures, butt rolls, sheets, corrugated, die-cut waste, overruns, skeletons, hardbound books, or any type of printers' waste quickly and easily. Vecoplan's industrial paper shredders not only deliver "true dump & run operation", but smart baler prep. Vecoplan industrial paper shredder machines eliminate the need for guillotines or floor sweeps and deliver shred sizes that produce neat, tight bales. Easily integrated into existing systems, including pneumatic material handling systems, Vecoplan industrial shredders are ideal for web press or sheet-fed printing plants.
Baler preparation of printer's waste paper is essential for an optimal bale density of paper baling waste for recycling and landfill disposal. Consisting of two major components, a shredder/baler system consists of a high volume paper shredding machine and a baling machine.
Vecoplan printers' waste shred equipment capable of shredding large volumes of print waste material works in tandem with the baling process by providing a steady stream of waste paper shredded to an ideal particle size leading to improved bale density. The result is a baler prep system that allows for easier paper recycling and a reduction in disposal costs.
Using the latest equipment and technology for printer's waste means a significant decrease in energy requirements to operate the baler shredder preparation equipment. Vecoplan manufactures one of the most energy-efficient baler prep systems on the market today. The Vecoplan P-Series industrial paper shredders offer Vecoplan's exclusive, energy-saving HiTorc™, the perfect solution for printing shops and baling paper recycling facilities requiring a baler prep system with a paper baling machine that is tailor-made for the job.
Saving energy with a shredder baler combination system using the latest and most advanced equipment reduces your carbon footprint and helps you to achieve the best use of your energy resources. Saving energy means saving money. As a worldwide leader in size reduction technology, Vecoplan has the best economical and environmentally friendly solution for your shredder/baler combination.