Lineal Scrap Recycling
Vecoplan Shredders for Lineal Scrap
Horizontal Shredding Solutions
Vecoplan horizontal shredders are fed by 16' vibratory conveyors designed specifically to move strips, moldings, siding, profiles, composite lumber, pipe, or any long waste. Lineal scrap is pulled from the conveyor and into the machine by both top and bottom feed rollers. A dedicated motor drives each roller. Dual feed rollers deliver aggressive positive feeding and at the same time provide added safety by minimizing material bouncing or flopping common to long scrap. Once inside the cutting chamber, the material is processed in much the same way as in our vertical shredders. After the material is cut between the teeth on the machine's rotor and the serrated teeth of the fixed counter knife it exits through a sizing screen.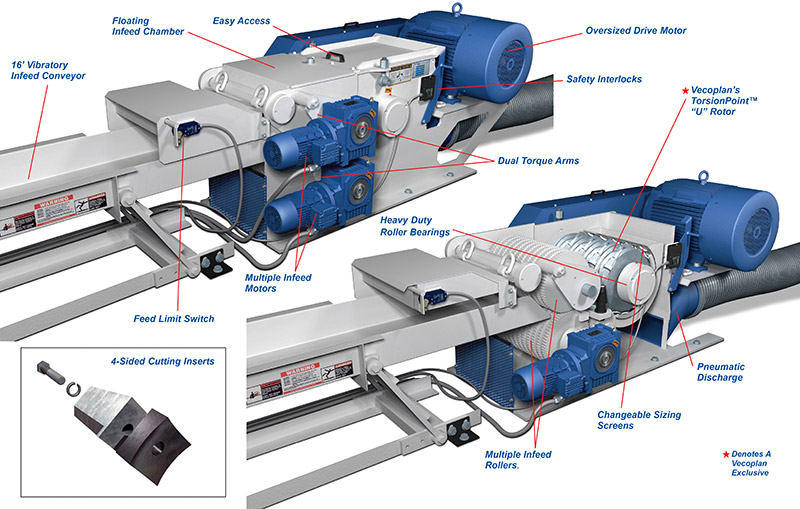 Sizing screens on both vertical and horizontal shredders from Vecoplan are interchangeable, allowing you to change particle size as your needs change. Vecoplan screens are inexpensive, as well as quick and easy to change. Once shredded particles exit the screen, the material is ready to be reintroduced into the manufacturing stream.
All industrial shredders from Vecoplan feature true dump & run operation. You simply feed material into the machine, push a button and walk away. The shredder does the rest.
Vecoplan shredders process a wide range of materials. Large or small, high bulk density or low bulk density, post-industrial or post-consumer, Vecoplan delivers the machine and the experience to meet any plastics recycling application.