Sawmill Scrap
Vecoplan Wood Grinders for Sawmill Scrap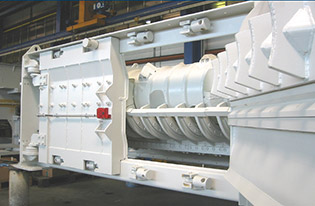 VOC Emissions, fire codes, and government standards have become much more stringent in the past few years, resulting in added expense in the form of spark detectors and fire suppression systems for pneumatic discharge systems typically associated with hammermills or other traditional wood waste size reduction equipment. Vecoplan VVZ and VNZ wood grinders offer the ideal solution for that.
Vecoplan VVZ and VNZ wood grinders utilize a slow speed, high torque design, allowing the processed material to be mechanically conveyed - eliminating the fire hazards and code requirements associated with a pneumatic discharge system. But the benefits don't stop there - Vecoplan VVZ and VNZ wood grinders are built with features that optimize any production process, such as:
Vecoplan's patented "U"-Rotor - the industry's most successful cutting rotor design.
Counterknives that are easy to replace and allow easy access to the cutting chamber for maintenance
Interchangeable sizing screens provide absolute control of particle size
Easy to replace cutting inserts reduce downtime and simplify maintenance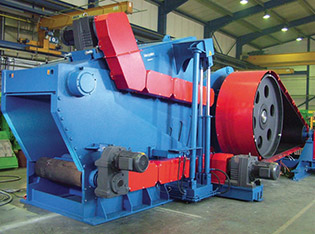 If your facility produces primarily lineal scrap, then Vecoplan has the ideal solution for you as well. Vecoplan VTH Series Drum Chippers are indispensable in the wood processing industry owing to their enormous throughput and wide range of sizes and rotor systems. They are designed to perform a range of tasks, from the production of fuel chips for energy generation through to quality wood chips for the wood pulp industry.
To refer to the Vecoplan VTH Series Drum Chipper as just a "wood recycle machine" is a misnomer, in that a powerful drum chipper is equal to other machines in a plant's production system. Used directly in the production line in sawmills for evacuation and wood waste recycling, the Vecoplan VTH Series Drum Chippers produce high-quality chips for the production of chipboard, paper, wood pulp, and fuel. In short - a large capacity wood chipper produces revenue.