Film & Fiber
Vecoplan Film Resin Reclaim Systems | Shredders for Film and Fiber
The FF Series of film and fiber shredders from Vecoplan, the worlds leading manufacturer of film shredding equipment, is the only equipment able to provide Vecoplan's patented SureCut™ Cutting System. This revolutionary design eliminates the problems encountered with conventional film grinders, fiber grinders, and other types of film recycling equipment including other traditional film and fiber shredding machinery. The SureCut™ system features a specialized cutting geometry that prevents self-feeding and rotor wrapping problems, while delivering precise cut lengths and high bulk densities. SureCut™, incorporated into all of Vecoplan's FF Series of shredders for film and fiber, is an integral part of many successful film resin reclaim systems in operation today.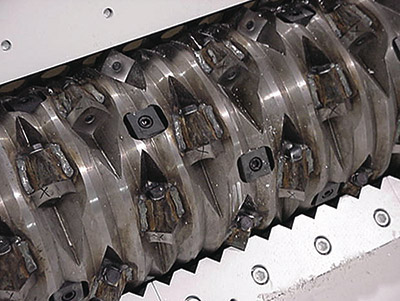 There are various types of film recycling machines and a range of plastic film recycling equipment, but if you're looking for the best film recycling shredders or fiber shredders, then look no further. There's only one SureCut™. It's only offered on the FF series of film shredding machinery, and only available from one company... Vecoplan – the film and fiber size reduction experts!
As the scope of recycling fiber and plastic film widens, Vecoplan film and fiber shredders are versatile enough to accept an ever increasing range of plastic and fiber scrap material that is being made into a broadening list of recycled consumer products. We take on the technologically challenging task to grind even the most difficult commodities such as highly tear-resistant synthetic fibers, airbags, big bags, textiles, ropes and laces. Employing the latest innovative technological developments, e.g. the film and fiber rotor, even these materials are easily processed in a Vecoplan plastics grinder.
Discover the film/fiber recovery system that fits your needs and contact Vecoplan today.