New Product
New VTH 65 grinder for recycling lineal scrap plastics
The VTH 65 is engineered for the single stage size reduction of lineal plastic scrap. It produces granulate that can be reintroduced directly into the manufacturing process. By eliminating the need for multiple machines and multiple processing steps, the VTH 65 not only saves on initial capital investment, but it also saves valuable production time and plant floor space.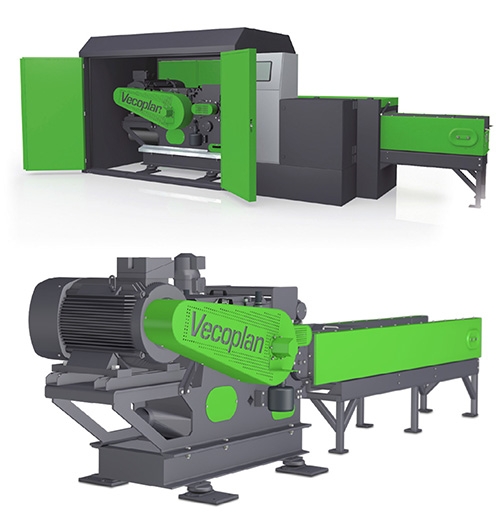 The VTH 65 handles production waste such as sheet extrusion strips, profiles, molding scrap, and pipe. It produces a consistently sized three-dimensional regranulate with an extremely low proportion of fines. This consistency is achieved through the interaction of the VTH 65's patented infeed system with Vecoplan's exclusive geometric cutting sequence.

Top & bottom feed rollers grip long scrap as it enters the VTH 65. Clamped between the two rollers, material is stabilized and fed it into the grinder's rotor at a precise cutting angle. These rollers also make subtle adjustments to feed speeds via automatic frequency controls. This assures material enters the cutting process at optimal rates to achieve consistently sized particulate.

The VTH 65 employs cutting inserts embedded on a turning rotor. These teeth interact with two separate stationary counter knives bolted within the machine's cutting chamber. Vecoplan has engineered the cutting geometry and knife interaction sequence to maximize particle size consistency. Specifics, while proprietary, include rotor speed, rotor diameter, the number of cutting inserts, the size, shape and angle of cutting inserts, and the placement of counter knives.