Parts & Service
SERVICE:
Our network ensures – service you can count on!
Vecoplan, LLC delivers quality technical service – fast! Whether telephonic troubleshooting or on-site field service is required, our knowledgeable technicians, electricians and engineers are standing by with answers to technical questions. Telephonic customer support is a free service provided to all Vecoplan customers, and when you need service performed at your site, we provide factory-trained technicians – fast!
All companies are ultimately judged on two things - The quality of their products and the quality of their service after the sale. This is especially true for industrial equipment. If your machine is down, then you're down. If a company wants to sell more machines, then they better deliver great service on the machines in the field. Vecoplan doesn't just "proclaim" superior customer support, we live it!
We have a full staff of service technicians at our east coast headquarters, service technicians at Vecoplan Midwest, and an extensive network of factory-trained service technicians located throughout North America. This ensures that you get the quickest service possible. All Vecoplan service technicians are trained in our factory, on our machines. This ensures that you receive the highest quality service possible.
Factory direct service, combined with a strategically located network of factory-trained technicians ensures that you get the highest quality service in the fastest time frame possible.
Ask about LiveService™ and Vecoplan's Ethernet diagnostics & troubleshooting capabilities.
Call the Vecoplan Toll-Free service hotline for free consultation:
1-888-RETECH1 (888-738-3241) FREE
START-UP / TRAINING:
Getting off to a good start is invaluable...
Vecoplan offers factory trained technician commissioning. This service is highly recommended and extremely helpful to new machine owners. Our technicians will completely inspect the installation, both electrically and mechanically, ensure proper equipment operation, and train customer personnel on operation, maintenance, safety and performance.
While included in all Vecoplan start-up visits, Vecoplan's service department can provide a factory trained technician to visit your facility any time, with materials for in depth training on the recommended daily, weekly, monthly, and yearly maintenance of the equipment. This is particularly useful for Vecoplan systems where auxiliary equipment is synchronized with machines.
Call the Vecoplan Toll-Free line to arrange this service:
1-888-RETECH1 (888-738-3241) FREE
INSTALLATION:
So, on second thought it might be better for the experts to do it…
Vecoplan is perfectly willing and able to perform both mechanical and/or electrical installation of not only shredders, but infeed/discharge conveyors, dust collection systems, granulators, and a wide variety of industrial equipment. Our crews are experienced, licensed and insured in most US states. We can even integrate equipment supplied by others or existing equipment in some cases. You will find our installation crews and contractors extremely knowledgeable, courteous, efficient, quick and professional. Start-up and training is normally included with this service. Another option for your system installation and commissioning is Vecoplan's Supervision option; we offer expertise in managing an install, by overseeing the installation process of a contractor you choose.
Call the Vecoplan Toll-Free line to arrange this service:
1-888-RETECH1 (888-738-3241) FREE
SERVICE AGREEMENTS:
There is no better way to protect your investment than to enlist Vecoplan to visit you at predetermined intervals and give your equipment the "once over". It could be as simple as a once-a-quarter visit just to inspect and advise, to a Preventive Maintenance Agreement that includes parts and wear item change-out labor, to a full blown, customized Service Agreement where Vecoplan essentially becomes your Maintenance Department. You have many options to protect your valuable investment and minimize down time, and replacement parts normally earn a discount when included in a Service Agreement.
Call the Vecoplan Toll-Free line to arrange this service:
1-888-RETECH1 (888-738-3241) FREE
NEW CUSTOMER SPECIAL
Protect your investment. Order a spare parts package for your shelf today and receive a
15% discount PLUS free delivery.
Must act quickly to receive this one-time offer. Contact Vecoplan at the number below or fill out the contact us form at left for ordering information.
You'll receive a customized quotation for your specific equipment needs, and a quick follow up to get it rolling.
Call the Vecoplan Toll-Free line to order your spare parts package:
1-888-RETECH1 (888-738-3241) FREE
SERVICES:
Our knowledgeable, on site technicians, electricians and designers are standing by with answers to technical questions, electrical information as well as part orders filled quickly from our large parts inventory. In addition, our Parts and Service Center has a complete full-service testing lab.
Part Orders
Technical Assistance
General Information
Reconditioning Service
Vecoplan is the global leader in manufacturing new size reduction equipment - we are also experts in renovating existing equipment. Our team of experts will breathe new life back into older machinery, making it perform and look as good as it did when it came from the factory.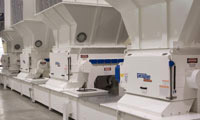 Testing & Demonstrations
In their continuing efforts to remain on the cutting edge of size reduction technology, Vecoplan, LLC offers comprehensive viability testing of your materials. Their complete in-house test lab and size reduction facility allows you and Vecoplan's engineers to perform feasibility studies on trial runs of your materials under production conditions. All data along with technical analysis remains confidential between Vecoplan, LLC and the customer. For additional information or to schedule a test run, call (336) 861-6070.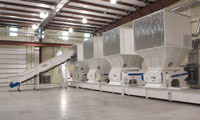 State-of-the-Art
Many shredder and grinder models available for testing
Full Conveyor and Material Handling System
Metal Detection and Separation
Free "Short-Run" Testing
"Long-Run" Tests Available
Please send test samples prepaid to the following address:
Vecoplan, LLC
5708 Uwharrie Road
Archdale, NC 27263
Attn: Sharon Thomas
Phone: (336) 861-6070
*Although Vecoplan, LLC is more than happy to record tests, it is strongly recommended that you visit the test facility in person and witness tests personally.