Shred Trucks - New and Used
Vecoplan Secure Destruction Shredding Trucks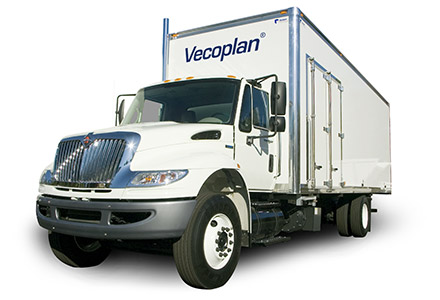 Mobile Shredding Solutions
VECOPLAN has redefined efficiency for on-site secure document and product destruction. A global leader in the size reduction industry and inventor of the slow speed single-shaft rotary grinder, Vecoplan has taken fine shredding equipment and made it portable in a true "dump-and-run" system that is far superior to conventional cross-shredding or hammer mills.
VECOPLAN shred trucks include the famous VECOPLAN Single Shaft Paper Shredder, the versatile advancement in destruction that cross-shreds in one machine and shreds everything from documents to bowling balls in a "dump-and-run" fashion.

LOW SPEED, LOW NOISE operation eliminates the risk of sparks, and you won't get complaints of noise or dust pollution when driving up to your most discerning accounts.

VECOPLAN has worked hand-in-hand with Navistar International to perfect the shred truck chassis and develop a standardized program to keep costs down, lead times acceptable and mobile shredding truck maintenance a breeze.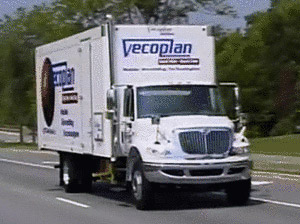 >Body
Our shredding trucks are constructed of space-age material that is both lightweight and stronger than steel.
Shredding Efficiency
Extraordinary throughput and payload capacity - Greater than any other 33,000 GVWR shredding vehicle.

Design Innovation
Latest design in bin loading. The Lock 'n LoadTM Bin Litter System developed jointly by VECOPLAN and ToterR, Inc. and the EasyGlideTM Loading Enclosure lifts and dumps at curb level without dust or safety issues. The SureTracTM Gliding Floor payload discharge system makes discharging quick and safe.

Intuitive Controls and Operation
Single station, graphic touch screen control console for operation of all process functions.
Ultimate Systems Capability
To complimant Vecoplan Mobile Shredding Technologies, Vecoplan has over 45 years of experience designing and installing complete turnkey shredding systems including tippers, sorting conveyors, feed systems, balers, and Vecoplan's exclusive TUCS™ Truck Unloading Containment System.
Types of Shred Trucks - New and Used